Perhaps the most important mission of the Mary Jo Wegner Arboretum and East Sioux Falls Historic Site is to share our passion for nature with the future stewards of our land. Fostering a child's interest in nature is the best way to preserve our investment.
Bringing Kids Back Outside
There's a significant environmental disconnect underfoot as our culture shifts from rural to suburban. Kids are surrounded by concrete and urban development their entire lives. We want to nurture the inherent curiosity of childhood and introduce kids to the natural world around them.
The Arboretum appeals to the senses by allowing kids to feel the wild grass between their toes and the soil in their hands. They can explore the scents of different plants and hear birds calling from the trees. They can see the leaves change colors and experience the rush of racing through a forest of trees.
Connecting children with nature creates a pathway to longer hikes, healthier bodies, and deeper family relationships. Appreciating nature instills the importance of preserving wildlife and a desire to take care of special places. With support from folks like you, we can bring kids back into nature.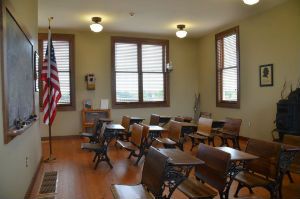 Discovering Local History
The Mabel and Judy Jasper Educational Center recreates the L-shaped schoolhouse that once stood in East Sioux Falls. Inside, the historical classroom gives visitors an opportunity to step inside history and see how students learned in country schools.