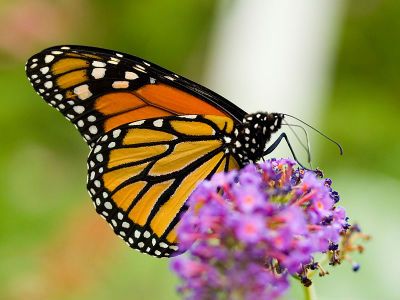 This is a very special season when the monarch butterflies are floating on the breeze. Where did they come from? Where are they going?
Scientists have found monarch butterflies all over the North American Continent including Canada. This small delicate species will travel over 2,500 miles to breed and overwinter in central Mexico. Let's learn some of the challenges that the monarch butterfly and other pollinator species are facing as their species are declining.
In response to the monarch butterfly declining 20% - 90% in last several decades, the International Union for Conservation of Nature has placed the Eastern Monarch Butterfly on the endangered species list as of July 21st, 2022.
We will also conduct a hands-on citizen science project tagging monarchs as they roost at the arboretum on this evening.
Andrea Porter is a professional naturalist and has been teaching programs for all age groups and abilities for over 17 years. She holds a masters in natural resources from the University of Idaho, a Bachelor of Science from State University of New York at Cortland in Outdoor Recreation Management with a concentration of Environmental Interpretation, and an Associates in Applied Science from Finger Lakes Community College in Natural Resources Conservation. Andrea's passion and education is the perfect recipe that fosters a connection of people to nature. Her professional training has also lead her to become a prescribed wildland firefighter, and a certified wildlife rehabilitator in the state of Iowa. Her hopes are in the near future to be certified in the state of South Dakota. With Andrea's free time she enjoys kayaking, biking, nature photography, hiking, and more.