About Warm Tummies Classes with Chef John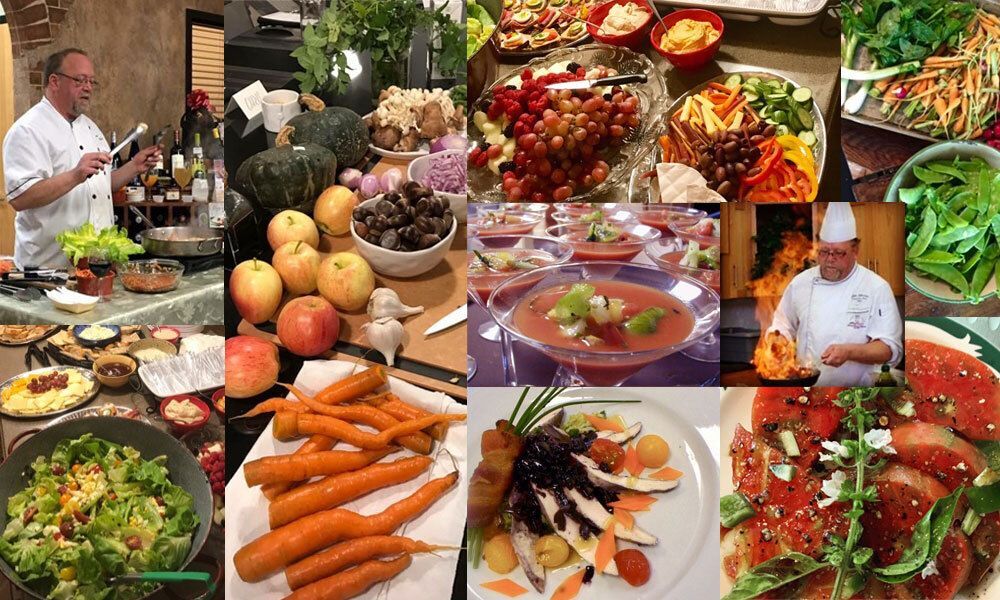 Celebrated Chef John Gilbertson is sharing the art of Warm Tummies through his comprehensive cooking series. Register for 1 or all 12 of the classes.
Family cooking is Chef John's love, and comfort from the kitchen comes naturally under his direction. Join him for hands-on cooking instruction in our state of the art demonstration kitchen. For new cooks, and those wishing to branch out (at the Arboretum), you'll pick up recipes and techniques to transform your own cooking, while enjoying an evening out. The Wegner Arboretum seeks to hold classes and events that bring people and nature together, with a focus on eating well, cooking, and growing.
___________
Get a TASTE of each class here. Click REGISTER NOW for ANY Warm Tummies Class.
OMELETTES & EGGS 1/12/23
Chef Georges Auguste Escoffier (1846 –1935) knew 147 ways to cook eggs, we will learn 4. Omelettes, scrambled, poached and pan fried eggs will all be prepared in this hands on workshop using induction range technology.
BRAISING VEGETABLES (Vegan) 1/17/23
Braising vegetables is a slow cooking technique that can give superb outcomes. Winter vegetables, fennel, endive, cabbage and roots will be explored in this hands on workshop.
PORK TENDERLOIN 1/24/23
Flavor takes center stage as we learn to prepare and cook fresh pork tenderloin. Hands on cooking skills will be shared in this fast paced class.
POACHING & STEAMING 1/31/23
Vegetables, grains, proteins, pastas and starches all do well with these important cooking techniques. Build your cooking skills at this delicious class. Tools used will include induction and microwave.
SOUPS (Vegan) 2/7/23
A good soup is a blessing, a great soup does much more! Learn to really build flavors using vegetables, aromatics and herbs in this hands-on class.
NOODLES 2/16/23
Flour, rice, buckwheat, noodle ingredients are endless! Let's make simple kluski noodles while sampling many more!
STEWS 2/23/23
Sear for flavor, braise for tenderness!
Braising is a skill that can change textures while building incredible flavors. We will build stews from beef, vegetables and poultry—bring your appetite.
IRISH SODA BREAD 3/2/23
Irish butter and currants alongside fresh baked soda bread. A taste of Ireland that you will love to bake in your own home. Comes with a baking kit for 1 loaf.
ROASTING PORK 3/7/23
Forget prime rib, learn the secret of dry heat roasting, using pork ribeye, loin and tenderloin. Along with roasted vegetables, a one pan meal never tasted so good.
CUISINE OF DUBLIN 3/14/23
Corned beef, Bangers and mash, bubble and squeak and Irish breakfast are all touched on during this celebration of Irish style foods.
CHICKEN & DUMPLINGS 3/28/23
Chef John moves over to let his spouse, Eileen share her secret for fluffy chicken and dumplings during this perfect break from Winter. 8 ingredients never tasted so good!
__________
CHEFOGRAPHY Highlights
• CAP de cuisine Francaise
• Prepared cuisine for Pres. George Bush, Pres. George W. Bush, Queen Elizabeth II
• Exec Chef Tailfeathers Restaurant
• Exec. Chef Sheraton Hotel & Sioux Falls Convention Center
• Former SD Chef of the Year
• Past President Black Hills Assoc. of Prof. Chefs
• Restaurant of the Year SD Pork Producers
• Chef Mentor to SD Prostart (see link)