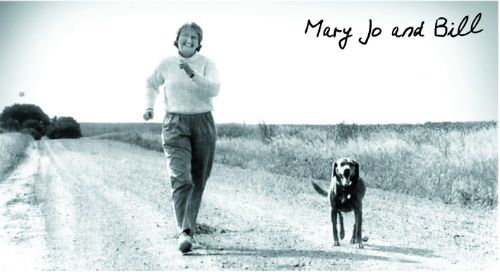 The Mary Jo Wegner Arboretum is named to honor the late Mary Jo Wegner, a longtime supporter of the arts, humanities, and environment.
Mary Jo was born in Cleveland, Ohio and grew up in Beatrice, Nebraska. She attended Wellesley College where she was elected class president, graduating in 1956. She was working as a clinical assistant at Massachusetts General Hospital when she met Karl, a student at Harvard Medical School. Within a year, they had married, and when Karl's residency there ended in 1962, they moved to Sioux Falls. Here, Mary Jo served on many civic committees and boards, including Sioux Falls Beautiful, a citizen's group devoted to maintaining and enhancing the city's environmental and quality of life.
In tune with nature from an early age, Mary Jo set foot on the future arboretum site and immediately loved the beauty of this special space of native trees and prairie grasses located among quartzite outcroppings and nestled along a scenic bluff overlooking the Big Sioux River. She possessed a passion for the beauty and historical significance of this natural environment and sought to protect, promote, enhance, and share it with others.
During her fight against leukemia, Mary Jo found respite in spending afternoons in the arboretum of a neighboring state and envisioned that her own community of Sioux Falls would someday benefit from the establishment of its own arboretum. In the summer of 2003, Mary Jo lost her battle with cancer. After her passing, the Wegner family established an arboretum fund at the Sioux Falls Area Community Foundation to commemorate her life and love of nature and to begin to fulfill her visionary dream. In November 2005, Sioux Falls Beautiful established an Arboretum Committee to work toward creating the Mary Jo Wegner Arboretum and East Sioux Falls Historic Site in her honor.