REGISTRATION is OPEN
Register 2 weeks prior to camp session to have your Camp WILD T-shirt on Day 1.
Tucked away on the edge of the Empire lies a forest filled with mysteries and delight! Nature is magic in real life. Spend a week (or two!) discovering what lies beneath our WILD WOODS and WILD WATERS, at the Mary Jo Wegner Arboretum!
Align with nature... Magic happens.   —John Friend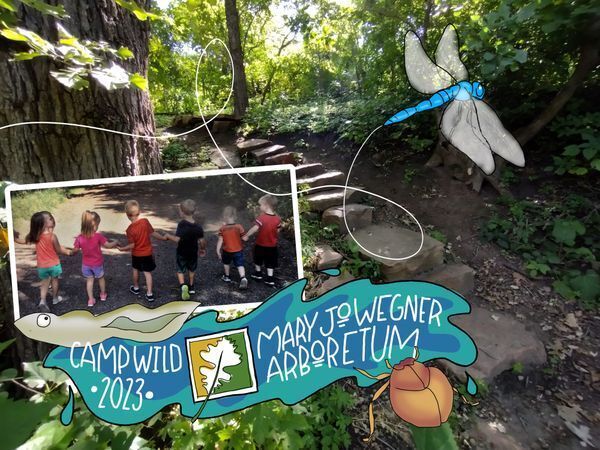 Come wander, stomp, run, and romp through our 155-acre Nature Playground! Your wild ones will discover WOODS & WATER through natural fun and scientific play! Collect bugs, run through THE INCREDIBLE WATER CYCLE JOURNEY, create nature art, and learn Happy Camper skills.
WILD about WOODS   &   WILD about WATER
Two unique programs, each program includes EARTH, WIND, and "FIRE!" Your young EXPLORERS will enjoy the earth through expert-led NATURE-learning and fun over 4 days, uncovering and discovering, through exploration and scientific play. There are 2 age levels for campers: ages to 5–8 by 9/1/23, or 9–12 by 9/1/23 for our older campers. Each day will provide an opportunity to BREATH life into their creative spirit with crafts aligned with the day's adventures. And every day will find the campers in new surroundings, representing the faces of South Dakota, from prairie, forest, wetlands, and quarry stone. We'll kindle a "FIRE" in their bellies with short hikes to each new activity! Each camper will receive a Camp WILD T-shirt.
Join us this summer for CAMP WILD at the Arb!
---
Happy Camper Testimonials
"[My daughter] hated to miss a day of camp. She loved everything. She'll be back next year."
"Boys loved it and were mad when we missed. Thank you we will be back next year for sure!"
"...We loved it and will be back next summer!"
CAMP WILD about WEGNER Coloring Sheet