The Giving Tree
In the Spring of 2018, a new tree was planted in the Arboretum lobby: a Giving Tree.
The Arboretum grew from dream to reality because of your generous giving. The Giving Tree is another way to recognize our donors and say thank you for all you give to the Arboretum and our visitors.

Each leaf on the Giving Tree will be inscribed with the name of a donor or individual honored by a donor. Bronze, silver, and gold leaves will recognize donation levels.

Your Giving Tree donations will help support the Arboretum's gardens, operations, and programming.
Call or email to learn more or to make a Giving Tree donation or Donate Online. Your support helps ensure the Arboretum's sustainability.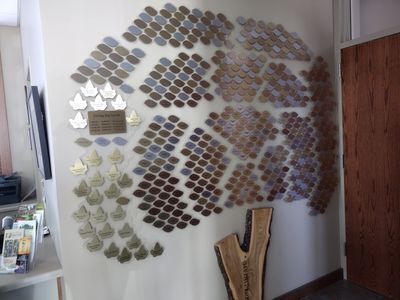 Giving Tree Levels
$200.00 - $499.99 - Bronze Leaf
$500.00 - $999.99 - Silver Leaf
$1000.00 - $4999.99 - Gold Leaf
$5000.00 - $9999.99 - Oak Acorn
Please specify donation amount based on Giving Tree Levels above
Your total payment will be

per month until you cancel the recurring agreement.
Your credit balance will cover
Your credit card will be charged
Your bank account will be charged